Manchester School of Samba - Since March 1995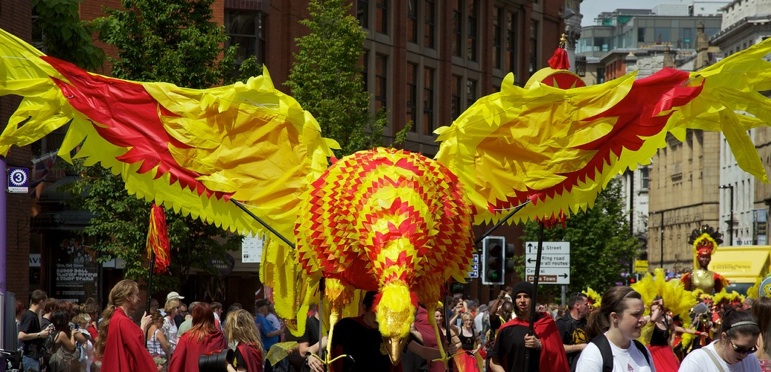 What is MSS?
Manchester School of Samba is Anthony Watt trading as "Manchester School of Samba (click here for office contact details)". Manchester School of Samba (MSS), the first Samba School in the NW of England, formed in March 1995 to foster the appreciation of Brazilian Carnival culture through rhythm, melody, dance and simple costumes.
MSS have provided an often life enhancing introduction to percussion and dance for hundreds of people as well as an opportunity for some to build on their knowledge and strengths, be inspired and make it part of their life. We currently have 50+ fully fledged members including dancers and drummers, and for special occasions also like to recruit a brass section and puppeteers. We focus on Brazilian Carnival Art forms, and teach rhythms & dances from different parts of Brazil at all levels from beginners to advanced and are open to all people.


Scroll down this page for more information including pictures and even more videos!.


Hire Us!
With over a decade's experience of providing affordable crowd stopping shows, inspirational workshops and courses for schools and colleges, as well as motivational team building for a range of corporate clients if you are organising a function or event or perhaps want your workforce to enjoy an activity as a team, we are sure MSS can help to provide that magical moment! For more information scroll down for videos or click here...
Can I Play?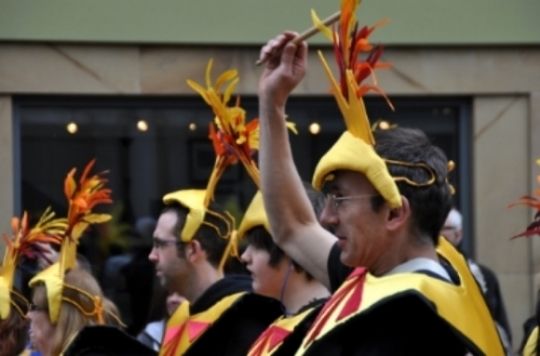 Come along and find out!
Hello and a warm welcome to anyone who has just encountered MSS!
We look primarily for those who wish to become our new players and dancers to help us perform at future events (especially The Manchester Day Parade),
but there are some who attend our main rehearsal regularly
just for the fun of it!
We hope you come along to that, on a Wednesday, like what you see, and consider joining us!
We will be holding sessions twice a week during term time (once we find another venue so bear with us), to hopefully give you an insight into the music we love and perhaps make MSS part of your busy life...
If you'd like to set out for yourself on that journey of exploration then your next chance will be...
Wednesday 28th January 2015!
View Larger Map
To find us on a Wednesday make your way down to
Sacred Trinity Church near Deansgate
(situated behind the traffic lights
on the junction of Chapel St and Blackfriars Rd,
- an easy walk from Piccadilly - just continue down Market Street/St Mary's Gate and straight on over Deansgate, until the route crosses the Irwell into Salford over the bridge that is Blackfriars Street, and you'll see the Church between the railway viaduct and Chapel Street, behind and slightly to the left of the lights), for
7.00p.m.
and join the rehearsal (brief pause around 8.30, 9.30p.m. finish). If you are in a car there's
free on street parking
on Chapel Street!
We are open to participants of all levels of ability and you can join at any time throughout the year. We provide all necessary percussion and a dance space, to any potential enthusiast over the age of 16 (children can come under the supervision of their parent or guardian)
and is very affordable at UKP 5/4.50 per session to non members!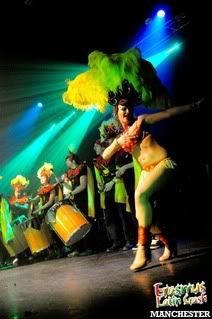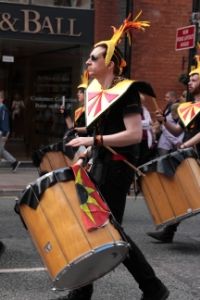 I Wanna Dance!
If you just fancy an exciting way to work out or want to become one of our dancers and perform as part of MSS, then come down and join the dancers!
The dance class runs as part of the same class as the drumming, and forms an integral part of every rehearsal each week Wednesday at Sacred Trinity Church (see the box above for walking directions).
When you come along to one of the main rehearsals just off Deansgate at Sacred Trinity Church on Wednesdays (7.00 - 9.30p.m.), Danny (in the centre in the picture below) will soon have you up to speed.
Experienced Members please make a special effort to attend the first Wednesday of the month so we can introduce new pieces and and tighten up our material.
We always need new people. If you think that could include you, come down on Wednesday and try it out for yourself this week!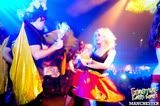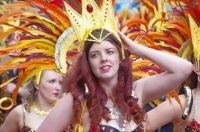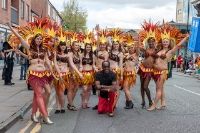 Pushed under the doors to the rehearsal space at Sacred Trinity Church and brought a tear to my eye...
N.B.Next main dance and drum rehearsal?
Wednesday 28th January 2015!
Can I Watch?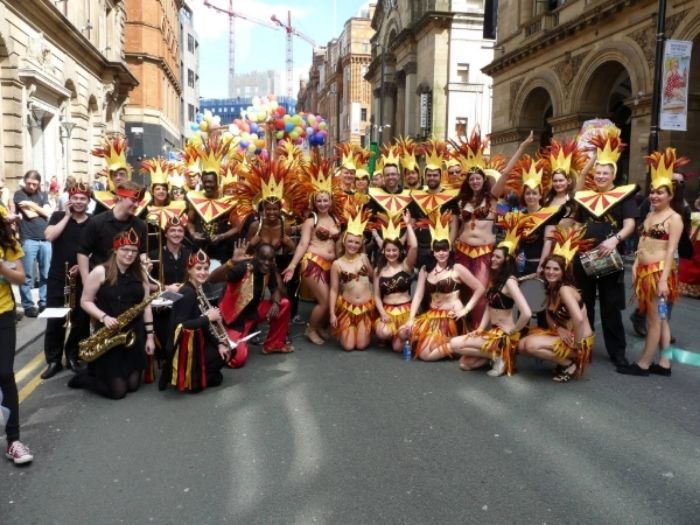 For Tony's musings on aspects of Brazilian culture take a regular look at his




Keep an eye on this box for details of some of our public performances.
For some

see "News" below.
Tweet
News
Sunday 22nd June 2014
MSS was proud to play
The Manchester Day Parade
Tweets by @SambaManchester
Previous Years
This is us in 2013.
Sunday 10th June 2012
At 3:46 mins
At 20:29 mins
At 14:33 mins
Sunday 26th June 2011
(see below for more videos)
Read this article from
Manchester Evening News 22/3/08
Express your support for busking continuing in Manchester (especially if you live nearby) in an e-mail: busking@sambaman.org.uk and subscribe to our e-mail list to be kept updated. In 2008 (and 2011) we were seen on Britain's Got Talent and locally towards the end of February that year on Channel M's Zeitgeist programme (Channel M Sunday 24th at 10p.m.) and you can watch it again by going to Zeitgeist Online (many thanks to Alison Moore for Producing the clip!). You can also see our part in a programme about one of our members Michael Browne on the BBC web site or catch glimpses of us playing on Deansgate, Manchester as part of The Manchester Day Parade, Sunday 20th June 2010 in the first video above, some footage of us in this year's Manchester Day Parade 2011 (29 seconds into the second for a minute, and from above for the whole clip in the third) in the next two clips, working with Zoe Walker & Neil Bromwich's "Love Canon" in the fourth video and slide show of images from one of our Wednesday night rehearsals at Sacred Trinity below that:

---